Today I have a blog post swap with Amy from The Pretty Vain, I hope you will enjoy her review on UD Moonspoon this is one of my fave post from her :)
Urban Decay
recently released a brand new eyeshadow collection called
Moondust Eyeshadows
, which feature intense hues, microfine sparkle and lush, 3-D metallics. I was lucky enough to be considered one of
Ipsy's
influencers so I received a full sized
Moondust Shadow
in the shade
Moonspoon
in my
May Glam Bag
!
Urban Decay
describes the new collection through this statement:
"These dazzling eyeshadows have a super-refined and incredibly sophisticated feel. Instead of chunky glitter, there are microfine bits of iridescent sparkles paired with intense hues and lush 3-D metallics. Moondust has a luxe, upscale vibe and a gorgeous, diamond-like effect that can't be beat. We recommend you apply these eyeshadows with your fingers. For extra intense payout, try them wet."
Urban Decay | Moondust Eyeshadow
in
Moonspoon
($20) - is described as a
"medium gray w/bright silver sparkle
." It is absolutely gorgeous in the pan and somehow even more spectacular when swatched on your hand. I found that it applied smoothly on my arm when I swatched it and was rather pigmented, however the base colour was not completely opaque. I noticed that there was quite a bit of fall out, so it would be best to apply this shadow prior to the rest of your makeup regime and use it alongside a sticky primer.
This shadow is unlike anything else currently in my collection and is something I will definitely reach for whenever I have a special occasion to attend!
Have you caught a glimpse of the brand new
Moondust Eyeshadows
from
Urban Decay
? Will you be purchasing any of the shadows from this collection?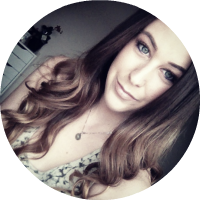 Good Morning Dolls! My name is Amy and I am the 23 year old beauty blogger in charge of theprettyvain, a blog that deals with everything beauty related! I am so happy that I got the opportunity to do a guest blog for Sheer Beauty, because I think Kayla is an amazing blogger who is always creating daring and beautiful looks that I only wish I could pull off. I hope that you enjoy my post and will head over to
www.theprettyvain.blogspot.com
for additional posts!
Amy, xo